Birthday celebration of Christine at homestay
July 12th marks the day where I (Christine) turn a year older! This year I hit 22! As a perk of being born in the middle of the summer I never really know where I get to celebrate my birthday… Last year it was on a plane to Singapore, this year it was in the amazing country of Nepal. I've been incredible fortunate to be surrounded by amazing people and experiences that made the day unforgettable: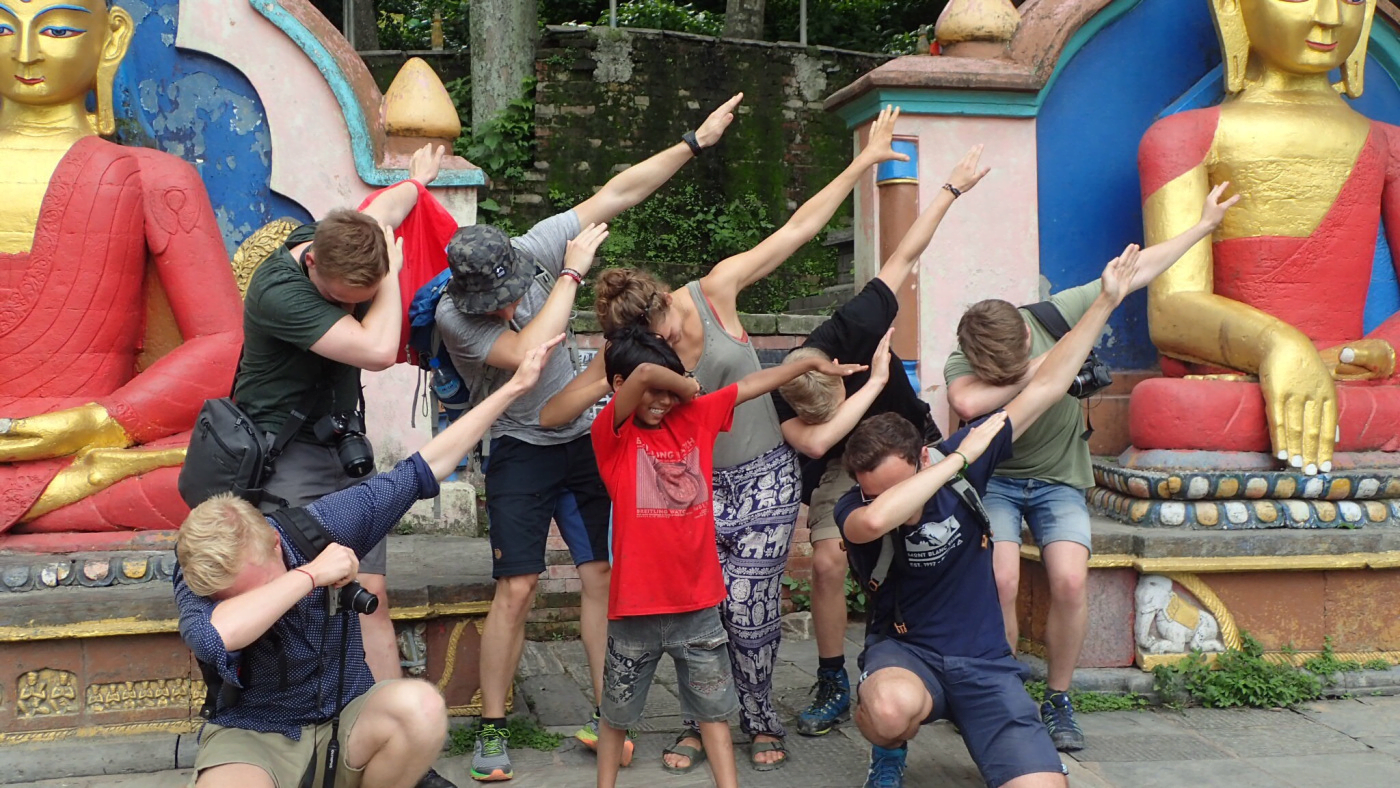 Normally we eat rice with some sauce and vegetables (Daalbhaat) for breakfast, but today our homestay mom also made pancakes! And to top it off, my amazing roomie had bought fruits and made a beautiful plate of fruits, pancake, (actual) French nougat, and crushed cookies!
The family we stay with are really great, and despite a slight language barrier we manage to all enjoy each others company. They had even bought me six beautiful red Nepali bangles (and a keychain of the Nepal for all of us)!
After breakfast we had Nepali language and culture training, we started on conjugation and past/present – yikes! But even though Nepali gets increasingly difficult, we also experience that some of the words start to stick and we're able to communicate (to a very basic existent) with the population around us.
When we finished with language training a sightseeing tour to the Swayambhu Stupa (Monkey Temple) was planned with some of the other teams. We were even fortunate to have some sun in the temple! Afterwards we walked to the shopping district Thamel, where we could get the last souveniers, presents etc.. Before we leave Kathmandu.
When we got back the family had waited for us, because we told them we would like to learn how to make momos (dumplings aka my favorite Nepali food). We all had a great time making them – though i must admit practice makes perfect ? We even all had dinner together with the grandmothers homemade Nepali spirits! Normally we will eat first, and then the family will eat afterwards. They don't have an oven or a mixer, but Jeannne still managed to make an amazing banana/chocolate birthday cake in a pan with the help from our homestay niece, Grace.